Compactness and total protection for rack systems.
The Sentinel Rack is a rack-mounted version of the popular Sentinel Pro range of ON LINE uninterruptible power supplies. Advanced double conversion technology provides the highest levels of reliability and protection for critical servers, data processing IT systems, and voice/data applications. Available in 1500 VA and 3000 VA versions, both products sit at just 380mm deep, making them the ideal choice to upgrade power in server rooms housing 600 mm deep legacy racks.
For applications requiring several hours of autonomy, the SER 3000 ER is fitted with a 6 A battery charger and additional battery packs for extra runtime. These plug and play UPS systems are designed to fit standard 19" inch cabinet racks and incorporate a Cold Start feature that enables them to power up even if there isn't a mains supply. Choose from a wide range of operating modes (i.e. ON LINE, ECO, SMART ACTIVE, STANDBY OFF, Frequency Converter) to boost performance and improve energy efficiency.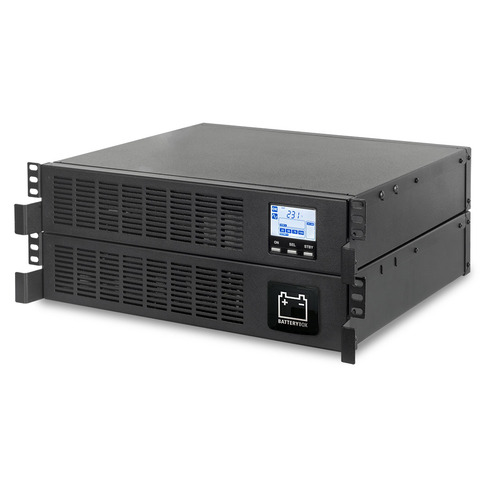 Brochures and data sheets
Technical specifications of the model
FEATURES
Filtered, stabilised and reliable voltage: double conversion ON LINE technology (VFI compliant with IEC 62040-3) with filters for the suppression of atmospheric disturbances;
High overload capability (up to 150%);
Programmable Auto-restart when mains is restored;
Battery start up (Cold Start);
Power factor correction (UPS input power factor, close to 1);
Wide input voltage tolerance range (from 140 V to 276 V) without battery intervention;
Runtime extendable up to several hours;
Fully configurable using UPS Tools configuration software;
Highly reliable batteries (automatic and manually-activated battery test);
High level of UPS reliability (total microprocessor control);
Low impact on the mains (sinusoidal take up).
ADVANCED COMMUNICATIONS
Multi-platform communication for all operating systems and network environments: PowerShield3 supervision and shutdown software for Windows operating systems 10, 8, 7, Hyper-V, 2019, 2016, 2012, and previous versions, Mac OS X, Linux, VMWare ESXi, Citrix XenServer and other Unix operating systems;
UPS Tools configuration and customisation software supplied as standard;
RS232 serial port and opto-isolated contacts;
USB port;
Slot for communications boards.
2-YEARS WARRANTY