Power Range:
700 - 3000 VA
Sentinel Pro has a unique, modern design and improved performance created by the Riello UPS research and development team. Sentinel Pro uses ON LINE double conversion technology, resulting in the highest levels of reliability and maximum protection for critical loads such as servers, IT and voice/data applications.
For business continuity applications requiring long battery runtimes, battery autonomy can be extended up to several hours using ER models fitted with more powerful battery chargers.
The front display panel has been entirely redesigned, adding an LCD display that shows the input and output voltages, battery readings and UPS operating status information. The inverter and the microprocessor control stage has been completely redesigned to provide increased efficiency and greater configuration options.
Maximum expandability: the Sentinel Pro is supplied as standard with a USB port and an expansion slot for protocol conversion or relay contacts boards. With energy savings in mind, Sentinel Pro is also fitted with a shut-off button to reduce energy consumption to zero during prolonged periods of inactivity (ECO LINE). Sentinel Pro is available in 700 VA, 1000 VA, 1500 VA, 2200 VA and 3000 VA models.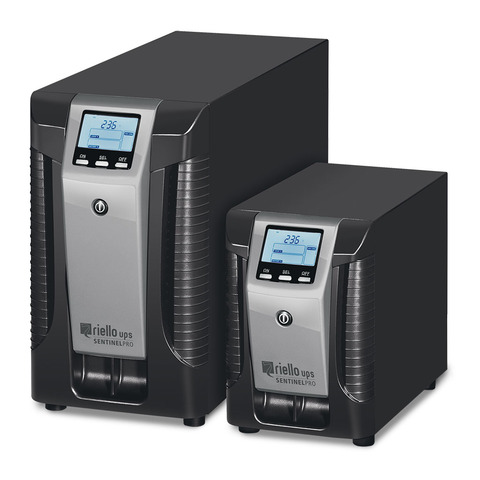 User's manual Sentinel Pro
For Serial number MZ01VOD20001 and following
Brochures and data sheets
CEI 0-16 compliance
Indications for compliance with the medium voltage standard
en
de
es
fr
hu
nl
pl
ro
ru
vn
zh
Technical specifications of the model
FEATURES
Filtered, stabilised and reliable voltage: double conversion ON LINE technology (VFI compliant with IEC 62040-3) with filters for the suppression of atmospheric disturbances;
High overload capability (up to 150%);
Programmable Auto-restart when mains is restored;
Battery start up (Cold Start);
Power factor correction (UPS input power factor, close to 1);
Wide input voltage tolerance range (from 140 V to 276 V) without battery intervention;
Runtime extendable up to several hours;
Fully configurable using UPS Tools configuration software;
Highly reliable batteries (automatic and manually-activated battery test);
High level of UPS reliability (total microprocessor control);
Low impact on the mains (sinusoidal take up).
ADVANCED COMMUNICATION
Multi-platform communication for all operating systems and network environments: PowerShield3 supervision and shutdown software for Windows operating systems 10, 8, 7, Hyper-V, 2019, 2016, 2012, and previous versions, Mac OS X, Linux, VMWare ESXi, Citrix XenServer and other Unix operating systems;
UPS Tools configuration and customisation software supplied as standard;
RS232 serial port and opto-isolated contacts;
USB port;
Slot for communications boards.
2-YEAR WARRANTY