DC BUS 220 Vdc
Ideal for industrial installations
Master Industrial series UPS provide maximum protection and power quality for any type of load, especially industrial applications, such as manufacturing and petrochemical processes, electrical distribution and power plants.
Master Industrial is an ON LINE double conversion UPS (class VFI SS 111 in accordance with IEC EN 62040-3) with input and output isolation transformers.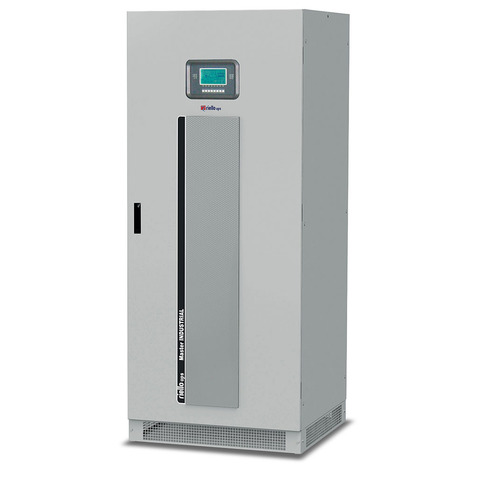 Technical specifications of the model
Industrial environment
Master Industrial is suited to the most demanding installation environments where there are vibrations, mechanical stresses, dust and in general where operating conditions are unfavourable to products created for the standard UPS market.
High ICC
The high short circuit current (ICC = 3xIn) makes it suitable for loads that require high current peaks during switch-on or during normal operation.
DC Voltage 220 V
The input and inverter transformers guarantee the isolation of the batteries, which are sized for a voltage of 220 Vdc (from 108 to 114 elements), the standard industrial value.
Redundant ventilation
Redundant ventilation at 100% load is standard, ensuring operation with a normal load with half of the fans operating; in addition, each fan is monitored and an alarm signal is provided in the event of failure. The Easy Source input features, the Battery Care System, and the flexibility and communications capabilities are the same as those of the conventional Master MPS range.